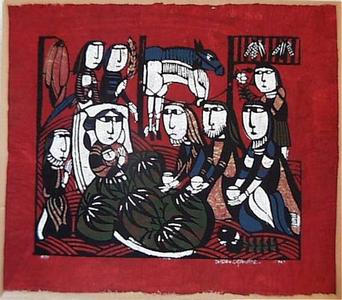 Artist: Watanabe Sadao
Title: JESUS BIRTH IN A STABLE
Date: 1967
Details: More information...
Source: Japanese Art Open Database
Browse all 17,130 prints...
Description:
LARGE ORIGINAL SADAO WATANABE STENCIL PRINT‾ON HANDMADE PAPER. Signed and Dated L/R: "SADAO WATANABE 1967", Edition: 4/50 on L/L, and Titled: "JESUS BIRTH IN A STABLE" as noted from label on the back(see pic). Out of the estate of the original artist /collector, I purchased this Watanabe and another that I will be listing. This is a large and particularly complex and classic example of Watanabe's distinctively Japanese rendition of a Biblical theme that he came to be so well known for. Instead of the traditional Japanese woodblock technique, he used Katazome and Kappazuri techniques which are traditional Okinawan folk art styles of stencil dyeing and stencil printing. Much credit is given to Watanabe for bringing interest and preservation to this centuries old method that was used primarily for kimono printing. The richly textured print is on a heavy mulberry paper that has been crumpled, smoothed and washed. The deep red dye background has intensely saturated color and gives depth to the complex and multiple stencil layers on this beautiful print. Colors and margins are sharp and clear Print Size: 27" long, 23" wide. Condition: Exceptionally fine, unmounted, unfaded, undamaged condition. Original untrimmed edges. The print was matted and framed behind glass, but displayed in a dark corner, thus there is no mat line. Clean, smoke free and ready for mounting and framing or archival portfolio storage.