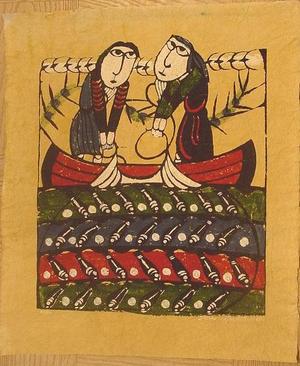 Artist: Watanabe Sadao
Title: Fishing
Date: 1967
Details: More information...
Source: Japanese Art Open Database
Browse all 17,130 prints...
Description:
This FANTASTIC Japanese woodblock print (also known as Katazome, or stencil print) is by the master Sosaku Hanga print maker Sadao Watanabe (1913-1996). It depicts two men in a boat pulling up a net full of fish. This print is in excellent condition, number 41 out of 50, and approximately 23 x 26 1/2 inches.