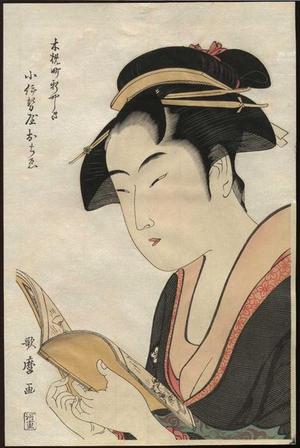 Artist: Kitagawa Utamaro
Title: Ochie of Koiseya Teahouse
Date: Not set
Details: More information...
Source: Japanese Art Open Database
Browse all 17,130 prints...
Description:
Ochie of Koiseya Teahouse by Utamaro. Genuine woodblock print. Fine condition. Oban size measures 16.4 x 10.8 inches. Showa era impression with Uesugi printer's seal, Okuda carver's seal and Takamisawa publisher's seal on verso. Nice ink bleedthrough on fine washi. Beautiful print of one of Edo's most beautiful women during Utamaro's time.