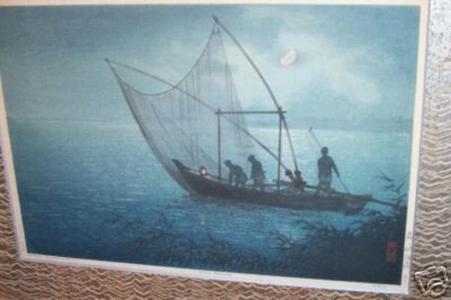 Artist: Tsuchiya Koitsu
Title: Morigasaki Coast
Date: 1930
Details: More information...
Source: Japanese Art Open Database
Browse all 17,130 prints...
Description:
KOITSU Tsuchiya (1870 - 1949) Night fishing along the cost of Morigasaki ('Morigasaki kaigan') Sealed: Koitsu Publisher's seal: Kawaguchi Carver's seal: Maeda Printer's seal: Komatsu Date: early 1930s Size: dai oban yoko-e (c. 30 x 41 cms / 11 3/4" x 16 1/8") This beautiful print is extremely rare. It would appear only a small edition was made by the publisher, Kawaguchi, who - together with Sakai in the 1920s - had published works by Hasui and Kotondo, a.o. - Around 1930 their cooperation had ended, and Kawaguchi continued to publish woodblock prints on his own. Kawaguchi, as well, had closed his business in the early 1930s. - This copy of the print is likely to be one of a very low number of impressions made.