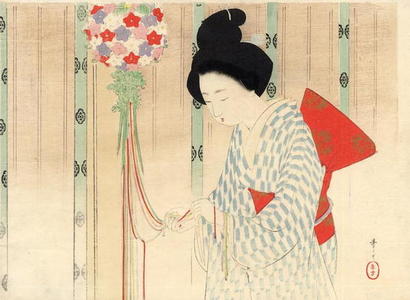 Artist: Mizuno Toshikata
Title: Flower scent ball
Date: Not set
Details: More information...
Source: Japanese Art Open Database
Browse all 17,130 prints...
Description:
Monday, 28 March 2005 Artist: Mizuno Toshikata Format: Kuchi-e: 8.75" x 12" Subject: A woman with a hair-pin with a family crest, untangling the colorful strings of a flower scent ball, which she is working on. In the background Misu (a Bamboo blind) with embroidered family crests. This print was a frontis piece in a well-known magazine Bungei Club (Literature Club). Date: 1902 Condition: Full size. The usual two vertical foldmarks. Minor soils, stains, marks and flaws. Generally good state. Colour: Fine colors. Impression: Fine impression with gauffrage and lacquer used for the hair.