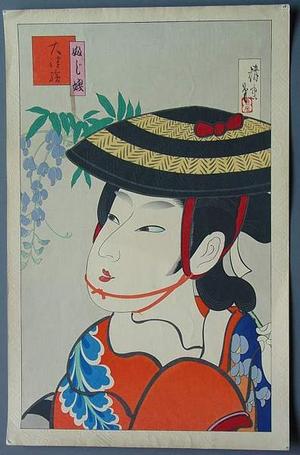 Artist: Torii Kiyotada I
Title: Fuji Musume- Wisteria Girl
Date: Not set
Details: More information...
Source: Japanese Art Open Database
Browse all 17,130 prints...
Description:
Large, Original Japanese Woodblock Print by Torii Kiyotada This is an original, c.1954 Japanese woodblock print by Torii Kiyotada (1900 ? 1976). The print has great color and is well printed with the extensive use of gauffrarge in the margins of the print and in the woman's hat. The print measures approximately 17 ? x 11 ?. There print has pin holes in the corners (four in the top right), a curved crease in the center of the print (running across the woman's face, see third image below), a one inch (unidentified) stain, in the area of the pink cartouche, a crease to the top right corner, and the paper has a slight role at the top and bottom edge of the print. Nonetheless, this is a fantastic print with appealing colors, and skillful printing.