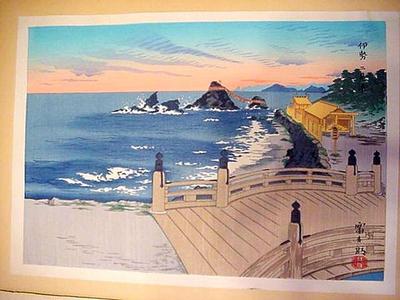 Artist: Tokuriki Tomikichiro
Title: Ise Futami Bay — 伊勢 二見浦
Date: 1941
Details: More information...
Source: Japanese Art Open Database
Browse all 17,130 prints...
Description: All seven were inside the portfolio when I bought them, but they may not be the correct prints to match the list inside the folder. I will let you be the judge of that. The inside of the folder has a label which reads, "Japanese Woodblock Prints: The Eight Views Of Japan. Selections from Prints of Places of Historic and Scenic Interest. (2 each of four seasons) Originated by T. Tokuriki" . I only have 7, so obviously one is missing. The label lists the names of the 8 that were originally (and may still be) inside the folder. Please see my photos to read that list. The backs of the paper the prints are individually attached to have numbers 1,2,4,5,6,7,8. If these are correct then #3 Katata Ukimido Temple In Lake Biwa is missing. The colorful part of each print measures 11 3/8" tall X 16" wide. 4 have paper matting around them, but 3 do not.