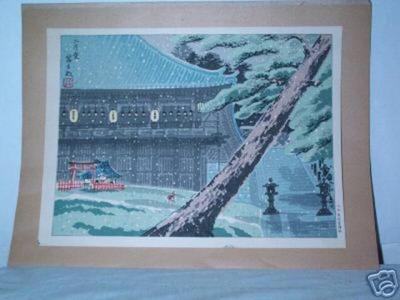 Artist: Tokuriki Tomikichiro
Title: Winter
Date: circa 1930-1950
Details: More information...
Source: Japanese Art Open Database
Browse all 17,130 prints...
Description: Tuesday, 5 April 2005 GORGEOUS SETS OF 4 SEASONS TITLED " FOUR SEASIONS OF NARA " JAPANESE WOOD BLOCKS , THE SILK/CARDBOARD ALBUM THAT THEY CAME IN IS PRETTY WELL SHOT ALL THE PIECES ARE THERE BUT ALL SEAMS ARE TORN UP., THERE ARE 3 PRINTS THAT ARE NEAR MINT WITH JUST A TOUCH OF MOUNTING GLUE OR TAPE STAIN IN EACH COENER LOWER RIGHT AND LEFT ON EACH. THE FALL SCENE WITH DEER HAS A MAJOR TEAR AND TAPED REPAIR TO IT.