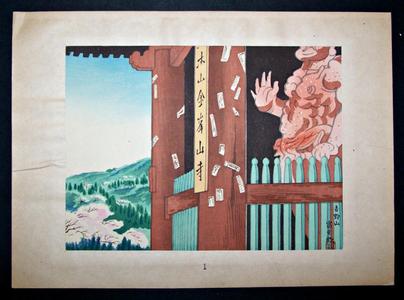 Artist: Tokuriki Tomikichiro
Title: Spring- Mt Yoshino
Date: circa 1930-1950
Details: More information...
Source: Japanese Art Open Database
Browse all 17,130 prints...
Description: This lot includes a folio of four original woodblock prints. The prints were originally by Japanese artist Tomikichiro Tokuriki (1902 - 1999) but were reprinted by the Uchida Woodblock Company. The folio is titled "Four Seasons of Nara Landscapes" and consists of four beautiful color woodblocks. Each woodblock shows one of the four seasons in Nara, the capital city of Nara Prefecture in the Kansai region of Japan. The woodblocks are as follows: 1. Spring - Mt. Yoshino 2. Summer - Yakushizi Pagoda 3. Fall - Kasuga Shrine 4. Winter - Temple Nigatsudo All four images measure approximately 7 1/2" x 10" and are printed on paper which measures 8 1/4" x 11". Each woodblock print is matted with thin paper and all together measures 10" x 13 3/4". All of the woodblocks are appropriately numbered and have the title of the piece and publisher's red seal within the image. These original woodblocks come in a decorative folio. The inside flap of the folio states the woodblocks included, the original artist, and "Engraved and Printed by Uchida Woodblock Printer." The woodblocks are in fine original condition. Woodblock #1 (Spring) has a few slight wrinkles in the left and right margins of the mat.