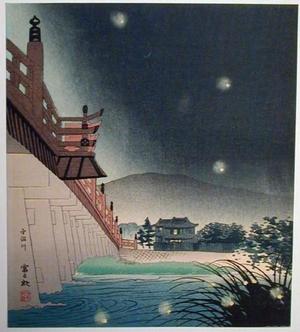 Artist: Tokuriki Tomikichiro
Title: Fireflies and the Uji River
Date: Not set
Details: More information...
Source: Japanese Art Open Database
Browse all 17,130 prints...
Description: This is an original Japanese woodblock print by Tomikichiro Tokuriki (1902-2000). The print is in very good condition. Fine impression, color, registration and bleedthrough. No foxing, toning, folds or creases. The print is not setdown, but is trimmed to the edge of the image. Print size is 9.5" x 10.75".