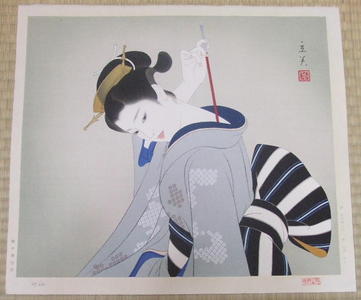 Artist: Tatsumi Shimura
Title: Saseru
Date: Not set
Details: More information...
Source: Japanese Art Open Database
Browse all 17,130 prints...
Description:
Wednesday, 30 August 2006 TATSUMI SHIMURA - Limited Edition "KISERU" (Tobacco Pipe) this extremely rare woodblock by Tatsumi Shimura (1907-1980). Limited Edition 40 of 450. Rarely seen in Japan and nearly impossible to find outside of Japan as Tatsumi prints are extremely rare, highly cherished in Japan and seldom sold. I do not think this print has ever been seen outside of Japan. Tatsumi specialized in bijin ga - prints of beautiful women. He is most famous for his series "Five Figures of Modern Beauties". This limited edition print is numbered 40 of 450. Carver; Kentaro Maeda, Printer; Ritsuzo Sato, and Publisher; Yuyudo. Size is large: paper size is 19 and ? inches by 16 and 1/8 inches. Colors are vivid and vibrant and in layers. Absolutely stunning original hand Japanese made woodblock print. Outstanding condition may have been framed for a very shot time; I am not really sure. One tiny foxing noted. Additional pictures gladly provided upon request. There is an excellent example at the Tokyo National Modern Fine Art Museum. There is an interesting notation about this print in book on Tatsumi's works. "The hand does not reach in the itchy place. The pipe, has done the hand substituting of the grandchild. It is not wise to do such a thing with public…"