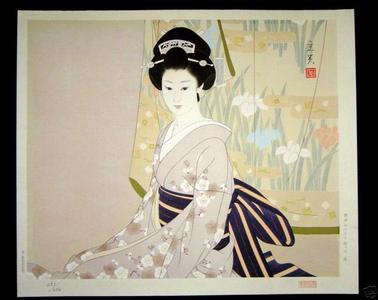 Artist: Tatsumi Shimura
Title: Iris — あやめ
Date: Not set
Details: More information...
Source: Japanese Art Open Database
Browse all 17,130 prints...
Description:
Monday, 5 September 2005 You are bidding on a very rare and beautiful original Japanese woodblock print "Bijin" from the Series "Modern Beauties Bijin Ga, Gendai Bijin Fuzoku Gotai" signed by the famous Shin-Hanga artist Shimura Tatsumi (1907-1980). Tatsumi was born in Takasaki in the Gunma prefecture under the given name of Sentaro in 1907. Shimura Tatsumi was specialized in bijin-ga (woodblock print of beauties), the genre of the depiction of beautiful women. Shimura Tatsumi was mainly a traditional Japanese painter so he did not create a lot of bijin ga prints before he died in 1980. The size of this woodblock print is 19 1/2 x 16 1/4 inches. The colors, which are vivid and vibrant, are in layers. This woodblock print is not attached any backing paper or cardboard. Ink bleeding can be seen through the back of the original Japanese mulberry Washi paper. All four borders are intact. The artist's signature and his chop mark are in the upper right corner of this print. Four borders are intact. In the lower right corner of the bottom border of this woodblock print, there is the artist's original chop mark again. At the left of the bottom border, it is pencil writing 253/450, means this is the number 253 out of 450 total print. The publisher's seal is in the lower left border. The carver and printer's seals are in the lower right border. As far as I can tell there are no defects, foxing, or stains, and this woodblock print is in excellent condition.