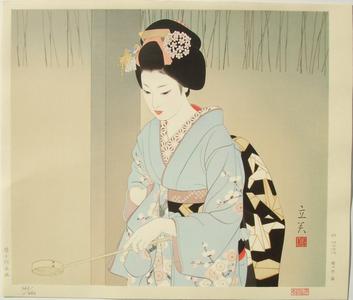 Artist: Tatsumi Shimura
Title: Hatsumode — 初詣
Date: Not set
Details: More information...
Source: Japanese Art Open Database
Browse all 17,130 prints...
Description:
Thursday, 25 January 2007 TATSUMI SHIMURA - Limited Edition "Hatsumode" (A New Year's visit to a Shinto shrine)"Hatsumode" (A New Year's visit to a Shinto shrine) this extremely rare woodblock by Tatsumi Shimura (1907-1980). Limited Edition, print 363 of 450. Tatsumi said about this print, "The morning sun shines on a pillar of a washhand stand in shrine. We can draw a Maiko(young Geisha) really in various ways. I sketch it very a lot, and I took a photograph, but it is very difficult to draw Maiko (young Geisha). It is self-justification, but painters of east of Japan ( Tokyo) cannot draw a woman of Kyoto . In addition, painters of west of Japan (Kansai - Kyoto or Osaka) cannot draw an Edo-style smart woman . Environmental difference is obvious so as to be terrible." I think this his words is very interesting. Rarely seen in Japan and nearly impossible to find outside of Japan as Tatsumi prints are extremely rare, highly cherished in Japan and seldom sold. I do not think this print has ever been seen outside of Japan. Tatsumi specialized in bijin ga - prints of beautiful women. He is most famous for his series "Five Figures of Modern Beauties" (Gendai Bijin Fuzoku Gotai). This limited edition print is numbered 363 of 450. Carver; Torazo Matsuda (very famous carver in Japan), Printer; Takeshi Uesugi, and Publisher; Yuyudo. Red seal appears" Sekiha no In" . Size is large: paper size is 19 and 1/4 inches by 16 and 1/4 inches. Colors are vivid, vibrant and in layers which makes them appear soft. The lines are crisp. Absolutely stunning original handmade Japanese woodblock print. Perfect in every respect. Pinhead size ink drop is noted in top margin as seen in picture.