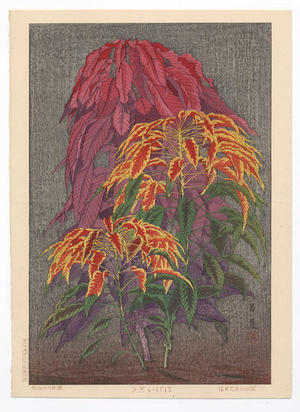 Artist: Taisui Inuzuka
Title: Coleus
Date: 1929
Details: More information...
Source: Japanese Art Open Database
Browse all 17,130 prints...
Description:
Wednesday, 17 August 2005 This is an genuine original Japanese woodblock print by great shin-hanga artist Inuzuka Taisui titled "Coleus". Unfortunately, very little is known about this kacho-e artist. Around 1929, Taisui designed several large flower prints for the publisher Kawaguchi and Sakai. Typical of works published by Kawaguchi and Sakai (appropriate seals at the left margin), these designs are very high quality in their carving and printing. Great impression, color and registration, clean backside, mint condition. Signed and sealed by the artist in the image. Oban size 15 1/4" x 11 1/4". This print is extremely rare and offered here with a low reserve. Bought directly from Robert Muller collection.