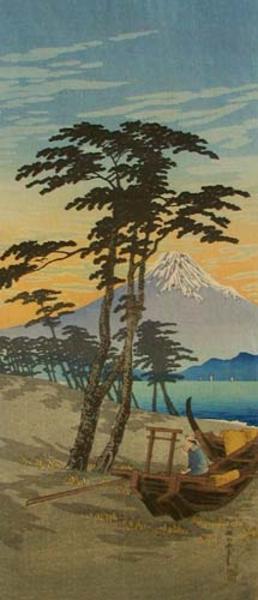 Artist: Shotei Takahashi
Title: Mt Fuji from Miho
Date: Not set
Details: More information...
Source: Japanese Art Open Database
Browse all 17,130 prints...
Description:
Saturday, 8 April 2006 Mt. Fuji from Miho. C. 1920-30. Woodcut printed in colors. Watanabe 1936 catalogue 228; shotei.com M28. Tanzaku: 14 3/4 x 6 3/8 (sheet 15 x 6 1/2). Signed and sealed "Hiroaki." A fine impression with bokashi shading throughout, and gauffrage on the pine trees and boat. Excellent color and condition.