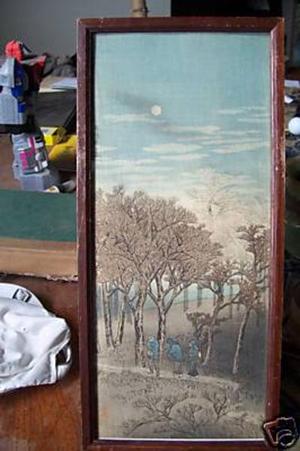 Artist: Shotei Takahashi
Title: M121- Forest at Shakujii
Date: Not set
Details: More information...
Source: Japanese Art Open Database
Browse all 17,130 prints...
Description:
Tuesday, 4 November 2008 we have two antique prints estate fresh we did some research and these are real original woodblock prints by the artist mentioned. they measure approx 14 3/4" " x 6 1/2 " these are the measurements mentioned in the online site we used to research the pieces.you can also find prices at artprice.net WATANABE SHOETI meiji period 1868-1912. GOOD LUCK! p.s. there is some argument as to whether KAKEI and WATANABE SHOTEI are the same person .some say KAKEI is the name SHOTEI used in his younger days?????????