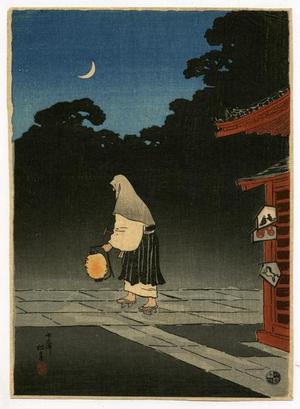 Artist: Shotei Takahashi
Title: Empty Prayers
Date: 1916
Details: More information...
Source: Japanese Art Open Database
Browse all 17,130 prints...
Description:
Monday, 17 December 2007 TAKASHI SHOTEI (HIROAKI) shin hanga woodblock Watanabe 7 1/8" x 10" Vintage Shin Hanga woodblock print, designed by Shotei and published by Watanabe Shozaburo, excellent condition The Watanabe seal is 9mm in diameter which according to http://www.ukiyoe-gallery.com/watasealpage1mod.htm, dates it to 1916. According to Shotei.com, the print is #C-42 and the title is Empty Prayers dated 1916. The size is chuban.