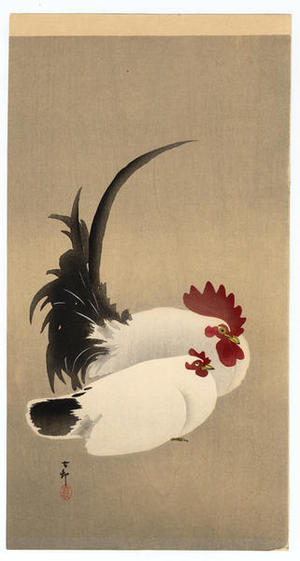 Artist: Shoson Ohara
Title: Rooster and Hen
Date: Not set
Details: More information...
Source: Japanese Art Open Database
Browse all 17,130 prints...
Description:
This print was created by Ohara Koson aka Shoson or Hoson (1877-1945) the great artist of shin-hanga in kacho-e (birds and flowers prints). Here is one of his great prints "Rooster and Hen". Was published and printed by Daikokuya (Matsuki Heikichi) in 1912, print bears a signature and sealed Koson in the image. O-tanzaku size 14 1/4" by 7 1/2". Print reproduced on p.100 in "Crows, cranes & camellias (The natural world of Ohara Koson)". Fine impression, excellent color, bleedthrough and registration - pristine condition. The print is not backed or mounted. Strong woodgrain texture on background, delux edition.