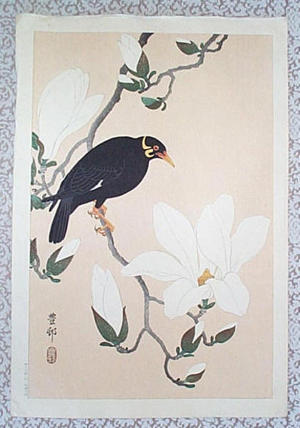 Artist: Shoson Ohara
Title: Myna bird- Indian Hill Minor and Magnolia
Date: Not set
Details: More information...
Source: Japanese Art Open Database
Browse all 17,130 prints...
Description:
Original Japanese kacho-ga woodblock print by Ohara Koson (1877-1945) and probably from the 1920s or 1930s. Myna bird on flowering magnolia branch. Signed Hoson with Hoson red seal. Published by Kawaguchi, engraved by Maeda and printed by Komatsu. A lovely composition, oban size, 15 7/8 x 10 5/8 inches. Very good condition; unframed and not trimmed.