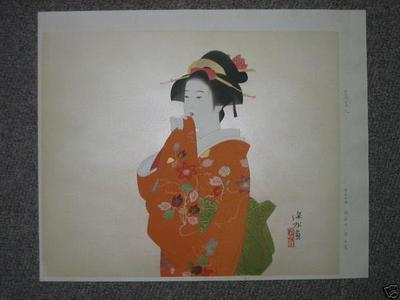 Artist: Ito Shinsui
Title: Bijin in red kimono
Date: 1980
Details: More information...
Source: Japanese Art Open Database
Browse all 17,130 prints...
Description:
Friday, 27 April 2007 This is an absolutely stunning original woodblock print by noted shin hanga printmaker Ito Shinsui. It is one of a series of prints based on his paintings and produced by Momose publisher; Shinsui contracted for these prints shortly before his death. The carver is Matsuda; the printer is Sato. Both of these skilled craftsmen had been employed by the Adachi publishing house, and their work is impeccable. The printing quality is easily the equal of any of Shinsui's earlier prints, with beautiful bronze mica background, giving the print a shimmery effect when illuminated. It is quite large, about 15 x 18 1/2 plus full margins. Bears the publisher, carver and printer seals in the lower left margin. Really nice condition, unframed; there is one small and exceptionally faint discoloration in the girl's face, but it is so tiny I couldn't get it to show up well in the pics (in person, it is not any more noticeable than in the pictures, perhaps even less so).