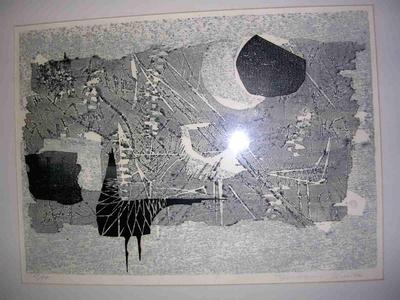 Artist: Shima Tamami — 島 珠実
Title: Untitled birds in greyscale
Date: Not set
Details: More information...
Source: Japanese Art Open Database
Browse all 17,130 prints...
Description:
Tami is dead. She died in Toyko of cancer about two years ago. I was her friend. She was married to a Japanese professor. She had two sons, Roger Bhalla and Brian Bhalla during her marriage to Hans Bhalla, deceased, while she was in Talladega, Alabama. Her entire collection is in the hands of her sons. Her son Roger lived with me for 13 years. Re: Tami's sons. They just picked up the entire collection about a month ago. It was stored, when they were still very young in the home of one of Tami's good friends here in Atlanta. There may be more in Talladega, Alabama, but we don't know. Their father, an artist in his own right, had some stored there. It's a sad story of a cross-cultural marriage. I'll give them a call and let them know. They're adults now and make their own decisions. Hello again. I just spoke to Brian Bhalla, Tamami's son, and he said to send you his email address as well as that of his brother. Brian is in the process of photographing the collection he has at his house. I will ask Roger to do the same. Brian also tells me they have other artist's work that she kept for them. They do not know who the artists are since they are signed in Japanese. We will be talking with a Japanese block print expert from Agnes Scott College here in Atlanta, and hopefully we can determine the full extent of their holdings. Any help you can give them will be appreciated. By the way, Brian tells me that his mom died in May of 1999. I didn't think it was that long ago, but he assures me that is the correct date.