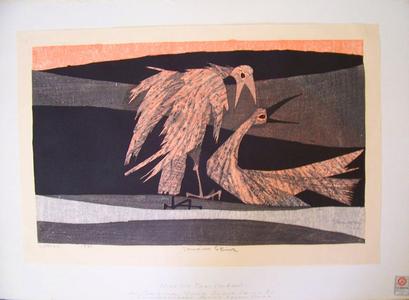 Artist: Shima Tamami — 島 珠実
Title: Two Birds
Date: 1960
Details: More information...
Source: Japanese Art Open Database
Browse all 17,130 prints...
Description:
Saturday, 24 June 2006 TAMAMI SHIMA "Niwa No Tori" - "Two Birds" Woodblock Print - Dated 1960 Not Nubered - Signed 21 1/4" x 13" Print Area 23 5/16" x 15 3/8" Paper Size (you can click or select any of the pictures to enlarge) A sosaku hanga woodblock original print by Japanese artist Tamami Shima. The print is unumbered and I have been unable to find any other examples of this same print so it is possibly rare and not just an 'open edition'. It was printed in 1960, fairly early work of hers, The back of the matt board has the name of the company who matted it in Concord, Ca. The back of the print has a tiny "Japan" stamped or printed on the very edge of the lower right corner.The print is in excellent condition. There is no damage to the print area. On the paper area there are some very slight 'creases/wrinkles' almost all toward the edges so if it is matted to include the signature and some paper area showing, there would be almost none of this showing anyway - this is minimal though. It is attached to the board only at the two upper corners and was evidently sold by "T.Z. Shiota, 402 Sutter St, San Francisco, Calif." Their Silver label on the lower right hand corner of the backing also reads "Artisticially Yours" The print is signed "Tamami, - 60" in the print area on the right hand corner. It is also signed "Tamami Shima" in the paper area just below the print area center.