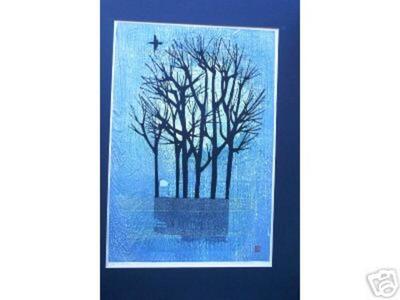 Artist: Shima Tamami — 島 珠実
Title: Forest 2
Date: 1961
Details: More information...
Source: Japanese Art Open Database
Browse all 17,130 prints...
Description:
The auction is for a Japanese Woodblock Print, Bird and Trees, with Full Moon by the late Tamami Shima (1937-1999) S/N: Signed in pencil below the print, with seal Dated :1961 Numbered : 3 of 20 History: This print was purchased from a gallery by a fine arts appraiser and collector in the 1960's in Japan. Still in business after 30 years, but considering retirement, he has decided to part with some of the pieces in his large collection. I am assisting by listing for him. Please, look for more from his collection in the future. If you have interest in a particular artist from this period, or other work by this artist, feel free to enquire. Any questions will be relayed to him and addressed by him. The artist: Tamami Shima was born in 1937, and contributed to woodblock printing use of kimetsubushi, the use of wood grain for texture and detail. She graduated from the Women's College of Fine Arts in Tokyo, and was awarded a travel grant in 1962, which helped her popularity abroad. She is included in James Michener's The Modern Japanese Print, one of only ten artists profiled. Tamami Shima is one of the few female artists from this period represented internationally. This is a relatively large work. The paper itself measures 17 3/4 by 23 1/5 wide. The block area of the print is 15 by 21'' wide. This was listed in the fall 1965 catalog of the Red Lantern , titled Selected Contemporary Japanese Prints. This has strong contrast between the light blue sky and the dark silouettes of the trees and birds. Many of her works from the 1960's are characterized by the use of birds, however, they are generally in earth tones. The blue sky and intimation of a full moon give this an autumnal feel. Japanese characters appear between the number and the date. Condition: The print has been conserved in a climate-controlled, clean environment. No exposure to sunlight. (For more photos, please ask) Good condition…has been matted with 4 bits of tape, but shows no marks or fading. I have included a picture of the back of the print, held to light, to illustrate.