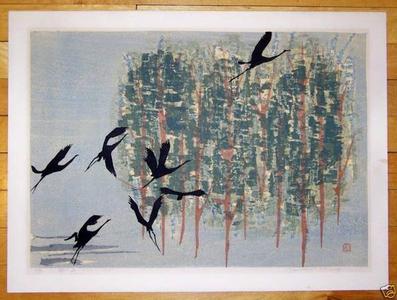 Artist: Shima Tamami — 島 珠実
Title: Fly in the Green Forest
Date: 1964
Details: More information...
Source: Japanese Art Open Database
Browse all 17,130 prints...
Description:
Friday, 17 October 2008 An original 1960s limited edition woodcut by Japanese artist Tamami Shima (1937-199). Depicting an abstract forest scene with flying birds. Double oban print, dated 1963, #11 from an edition of 70. Signature: Tamami Shima 11/70 1963 (w/Japanese text, all in pencil) Dimensions: image: 20 1/2" x 14 3/8" h (52.25cm 36.5cm) paper: 23 1/8" x 17 1/8" h (59cm 43.5cm) Condition: Good...with visble age darkening where the paper was not covered by the matte; a few stains in the right and lower margins; hinge tape on the reverse top margin; straight linear creases on the left and right image edges and a curved crease in the sky to the left of the trees (pic 7).