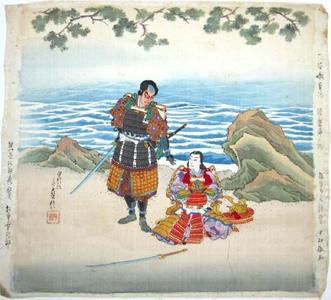 Artist: Sadanobu 3 Hasegawa
Title: Kumagai and Atsumori
Date: Not set
Details: More information...
Source: Japanese Art Open Database
Browse all 17,130 prints...
Description:
Monday, 30 August 2010 Kumagai and Atsumori Signed: Konobu Sansei Sadanobu Date: 1950s Size: x cms (mounting) 27.8 x 30.5 cms (painting) 0 x 0 inch (mounting) 11 x 12 inch (painting) Technique: colours on silk Condition: Sheet of silk (unbacked) with annotations in ink in two margins Price: 225 Euro Literature: Scene showing Kumagai (left: warrior from the Genji Clan) about to kill Taira Atsumori on Suma beach in the kabuki play Ichi no Tani Futaba Gunki.. Together with this print the finished print (26.5 x 29.5 cm. - bxh), published by Uchida in the 1950s. Fine impression, colours and condition, see "detail". The price is for the combination of painting and print !