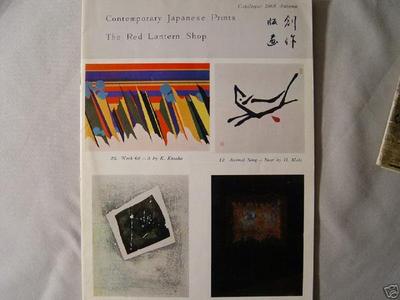 Artist: Red Lantern Shop
Title: 1968 Autumn Catalog
Date: Not set
Details: More information...
Source: Japanese Art Open Database
Browse all 17,130 prints...
Description:
Thursday, 13 April 2006 My catalog! THE RED LANTERN SHOP REPRESENTED JAPANESE ARTISTS, AND MAY STILL DO SO. THIS IS A 1968 AUTUMN CATALOG WITH ONLY 20 PAGES. THE CATALOG HAS 21 TIPPED IN COLOR PRINTS OR COLOR PHOTOS, THE OTHER 54 ARE BLACK & WHITE PAGE PHOTOS. THE COLOR PRINTS ARE SMALL, 2 3/4 X 2 3/4, 3" X 4", 1 1/2" X 4", 3 1/2 X 5", THEY ARE ALL IN THESE SIZES. THEY COULD STILL BE USED IN SMALL FRAMES, OR LEFT IN THE BOOK FOR REFERENCE. MOST OF THE ARTISTS IN THIS CATALOG ARE FAMOUS TODAY, WHERE-AS SOME WERE ALREADY FAMOUS. THE CATALOG WAS USED AND READ, BUT NOT ABUSED. ONE PRINT IS LOOSE ON ITS PAGE, IT CAME LOOSE FROM THE TIPPING, NOTHING WRONG WITH IT. THERE IS ALSO A 1968 PRICE LIST FOR ALL 75 ART WORKS THAT ARE SHOWN IN THIS CATALOG.