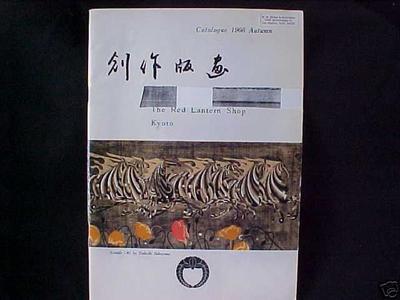 Artist: Red Lantern Shop
Title: 1966 Autumn Catalog
Date: Not set
Details: More information...
Source: Japanese Art Open Database
Browse all 17,130 prints...
Description:
Tuesday, 25 April 2006 This auction is for a 1966 AUTUMN CATALOGUE of Contemporary Japanese Art, from the RED LANTERN SHOP of "CONTEMPORARY JAPANESE PRINTS." The Red Lantern Shop in Kyoto, Japan services collectors around the world in both old and modern prints of all types by leading artists of the contemporary movement. Included in this catalog are 124 black & white photo plates or prints from artist such as: Kiyoshi Saito; Tadashi Nakayama; Toru Mabuchi; Sadao Wantanabe; Shu Ikeda; Hideo Hagiwara; Tadashige Ono, Haku Maki, and others. There are some pen/pencil markings, such as crossing off a number under the print photo, as if they were marking what they wanted to purchase from a gallery or something, and writing the word "out" as seen in one of the pictures. The upper right corner of the front cover has a mailing label with a name and address. Additionally, if you take a close look at the front cover of the book a rectangler shape piece has been cut out that had the words "Contemporary Japanese Prints." This does not affect the contents inside the Catalogue. There are no other cuts, or missing pages in the catalogue. The back of the catalogue has a 1966 price list of the art works in this catalogue.