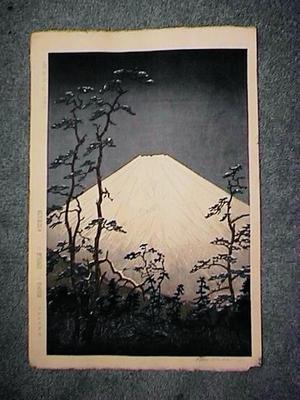 Artist: Okada Koichi
Title: Fuji
Date: Not set
Details: More information...
Source: Japanese Art Open Database
Browse all 17,130 prints...
Description:
This is a vintage Japapnese woodblock print that measures about 16 x 10 & 3/4 inches. It is signed by the artist, Koichi Okada. There are also many Japanese symbols, but I do not know the significance of any of them. I am not sure of the age of the print, but it has to be prior to 1961. I purchased two of these because I thought they were lovely. They were in some cheesey dime-store frames when I bought them & the people had annotated the year, 1961, when they framed them. I have kept them for years with the intention of reframing them, but have now decided to sell them, instead. If you are interested, please check my other auctions, as I am listing both & would be happy to combine postage. There are some small yellow tape residue stains on the reverse of the print, but otherwise, it appears to be in excellent condition.