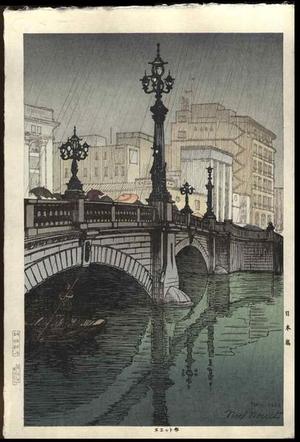 Artist: Nouet Noel
Title: Nihonbashi Bridge
Date: 1936
Details: More information...
Source: Japanese Art Open Database
Browse all 17,130 prints...
Description:
Monday, 21 November 2005 NOEL NOUET Nihonbashi Bridge Date: 1936, dated in print, published by Doi with the Endo-Seki carver/printer seals, Doi watermark in upper left corner Size: approx. 10.7" x 16" Condition: Fine, no condition issues Impression: Fine, Nouet prints are notorious for their carving as the artist's style used many lines and required much more time to be carved than other shin hanga artist's prints Color: Fine, deep saturated color and bleed through A BOATMAN gets protection from the rain under the Nihonbashi as pedestians bearing umbrellas cross above in this 1936 print of Tokyo.