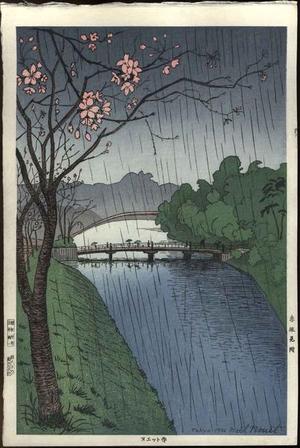 Artist: Nouet Noel
Title: Akasaka Mitsuke
Date: 1936
Details: More information...
Source: Japanese Art Open Database
Browse all 17,130 prints...
Description:
Monday, 16 January 2006 NOEL NOUET Akasaka Date: 1936, dated in the blocks to the print, this is a later edition published by Doi with the rare Endo-Ito carver/printer seals Size: approx. 10.4" x 15.75" Condition: Fine, no condition issues Impression: Fine, Nouet prints are notorious for their carving as the artist's style used many lines and required much more time to be carved than other shin hanga artist's prints. Color: Fine, deep saturated color and bleed through DURING THE EDO PERIOD, Asakusa was a halfway stop between the city and its most infamous pleasure district, Yoshiwara. In time, however Asakusa developed into a pleasure quarter in its own right, eventually becoming the center for that most loved of Edo entertainments, kabuki. In the very shadow of Senso-ji Temple a fairground spirit prevailed and a whole range of very secular entertainments were provided, from kabuki theatres to brothels. When Japan ended its self-imposed isolation with the commencement o the Meiji Restoration, it was in Asakusa that the first cinemas opened, in Asakusa that the first music halls appeared and in Asakusa's Teikoku Gekijo Theatre (Imperial Theatre) that western opera was first performed before Japanese audiences. Unfortunately, Asakusa never quite recovered from the bombing at the end of WWII. Although Senso-ji Temple was rebuilt, other areas of Tokyo assumed Asakusa's role of the pleasure district.