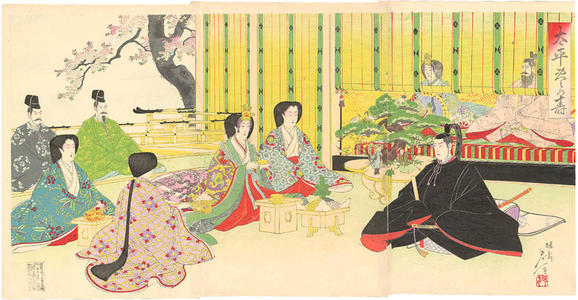 Artist: Watanabe Nobukazu
Title: The betrothal of Prince Yoshihito, son of Emperor Meiji
Date: 1900
Details: More information...
Source: Japanese Art Open Database
Browse all 17,130 prints...
Description:
Thursday, 29 December 2005 Artist Nobukazu Title The betrothal of Prince Yoshihito, son of Emperor Meiji Date March 28, 1900 Publisher Takegawa Seikichi Format Oban triptych (29" X 14 3/4") Comment Heavily burnished pattern on the black robe, metallic pigments. Sheets unbacked but attached. The Emperor and Empress watch the ceremony from behind bamboo blinds. The decoration has all the auspicious symbols - cranes and turtles for longevity; pine, bamboo and plum for friendship; and the old couple Jo and Uba for marital fidelity.