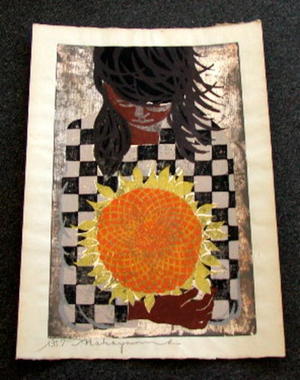 Artist: Nakayama Tadashi
Title: Girl with sunflower
Date: 1957
Details: More information...
Source: Japanese Art Open Database
Browse all 17,130 prints...
Description:
Girl with sunflower. An original Japanese woodblock print by Tadashi Nakayama. It measures 15" x 24" (framed 34" x 25"). The print is in very good condition. It's signed, 1957 T. Nakayama. The frame is silver leafed and has non-glare glass. Tadashi Nakayama is considered one of the modern masters of color woodblock printing. His printing techniques are laborious and difficult. Some works require up to 18 blocks, 40 or more colors and over 50 printing stages. His major themes are girls, horses and butterflies. Nakayama's work can be found in museums around the world.