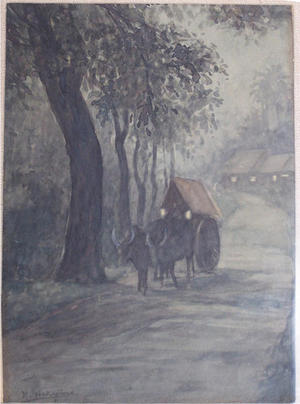 Artist: Asai Kiyoshi
Title: Ox Cart at Night
Date: Not set
Details: More information...
Source: Japanese Art Open Database
Browse all 17,130 prints...
Description:
KIYOSHI NAKAJIMA 1899 - 1989 ORIGINAL WATERCOLOUR PAINTING OX CART AT NIGHT. I have no idea as to the title of this painting; to me, it looks like an OXCART AT NIGHT. Nakajima Kiyoshi was born in Kyoto and studied Japanese-style painting in Tokyo with Yasuda Yukihiko (1884-1978). In 1941 he became a lecturer at the Tokyo Craft High School, and in 1952 he became a lecturer at the Tokyo University of Arts. He is known for his paintings of historical subjects and for his traditional bird-and-flower paintings. A framed watercolour that is approximately 9 1/2" X 13" in size (measured to the inside edges of the matte). The outside dimensions of the frame are roughly 17" X 21".