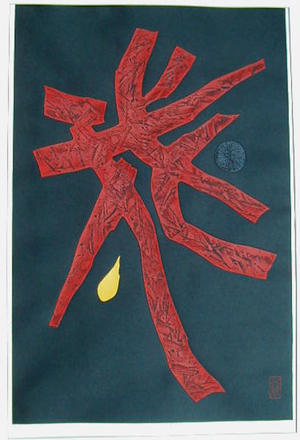 Artist: Maki Haku
Title: calligraphic form 1 - poem
Date: Not set
Details: More information...
Source: Japanese Art Open Database
Browse all 17,130 prints...
Description:
Object: Before you is an exquisite print on a grand scale by the modern Japanese master, Haku Maki (1924 - 2000). Maki is famous for his combined woodcut, stencil, lamination, and cement-relief block prints which produce marvelous textures and effects. This print was fiendishly difficult to photograph, but I assure you that all colors are deeply saturated and all forms are crisp and wonderful. Please note the subtle play of calligraphic forms with the anthropomorphic, as well as other references to nature. Pencil signed and titled. This print is #50 of a very small edition of 100. Frame is decent but not great, matte black aluminum. I will send it separately at your request and expense. Modest Reserve. Condition: Superb! Print is NOT laid down. Back is completely free and clean except for two small, museum-type hinges at top right and left. Very, very slight toning as seen in photos. Condition does not effect pigments. Size: Paper size = 32" x 21 1/4" Image Size = 30" x 19 3/4"