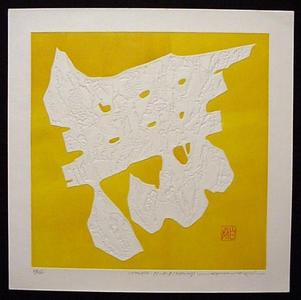 Artist: Maki Haku
Title: Work 73 - 8 - B (Nothing)
Date: Not set
Details: More information...
Source: Japanese Art Open Database
Browse all 17,130 prints...
Description:
Description: HAKU MAKI (MAEJIMA TADAAKI) (Japanese, b. 1924): "Work 73 - 8 - B (Nothing)", woodblock and cementblock relief print, ca. 1969, image: 9.7 by 9.8 inches. Signed in pencil and annoated with title and "29/102", printed in dark yellow on heavy, white Japan paper, 1.0 inch margins. Absolutely mint condition. Note: Haku Maki studied printmaking under Onchi Koshiro and Hiratsuka. He experimented with wire brush effects on natural wood grain and then created a unique technique using plaster of paris and cement blocks in combination with woodblocks, thus achieving the deeply embossed effect demonstrated in this print.