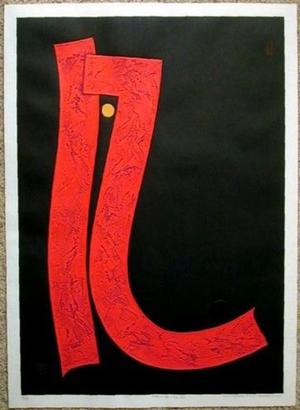 Artist: Maki Haku
Title: Poem 70-76
Date: Not set
Details: More information...
Source: Japanese Art Open Database
Browse all 17,130 prints...
Description:
This is an original oversize sosaku hanga Japanese woodblock / cementblock print by Haku Maki (1924-1999) titled "Poem 70-76 (a)". The print is pencil signed by the artist and sealed in the image. The print also bears the poets seal in the upper right corner of the image. The edition is 88/157. The print is in fine condition. Fine impression, very strong color, and extensive use of guaffrage (embossing) on this print. No foxing, toning, folds or creases. The print is not trimmed or setdown. Paper size is 17.5" x 24.25". This is the most powerful Haku Maki print I have ever seen, the photos do not due justice to the shade of red and the scuff-free richly printed flat black background .