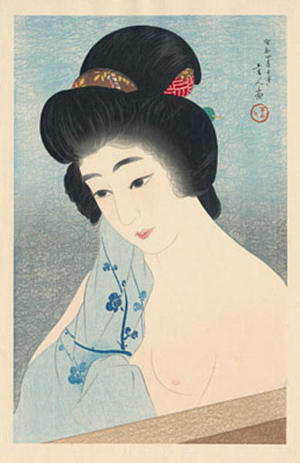 Artist: Torii Kotondo
Title: Vapour- Yuge — ゆげ
Date: 1929
Details: More information...
Source: Japanese Art Open Database
Browse all 17,130 prints...
Description:
Artist Torii Kotondo Title "Yuge" (Vapour) Medium Original Limited Edition Japanese Woodblock Print Editions: 200 and 350 (it may be 300) Date 1929 October Publisher Sakai and Kawaguchi Reference No Female Image # 171; The New Wave #263 Size 18 x 11 -3/4 " (sheet) Dimensions 18.125 x 11.875 Notes: Embossed title in the lower margin reads: "Yuge".