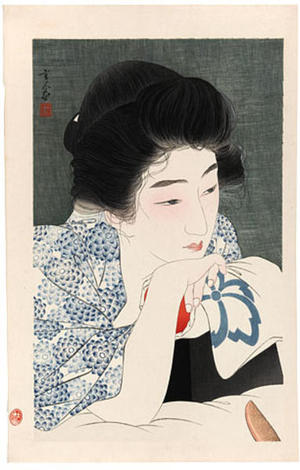 Artist: Torii Kotondo
Title: Morning Hair - Asa Negami — 朝寝髪
Date: 1931
Details: More information...
Source: Japanese Art Open Database
Browse all 17,130 prints...
Description:
Artist Torii Kotondo (1900-1976) Title: Morning Hair Date Of Work: 1931 November (confirmed) Publisher: Ikeda Dimensions: 19 x 11.75 inches Limited edition of only 100 prints, after which the blocks were destroyed. Scene number 1 among 12 Ikeda published scenes. Notes: Very rare. Kotondo's most famous design. The police banned this scene under the "Peace Preservation Law" of 1928, and confiscated the prints and blocks after 70 impressions had been printed. Why? Because of that comb in the lower right corner (too sexually suggestive. Go figure!). Ikeda marked all 70 prints with an X, gouged the blocks, and then handed them into the police (above data from the publisher Ikeda Tomizo's brother). So this means the actual number of prints that were sold is extremely low (maybe in the tens), as we would expect given the rarity of this scene.