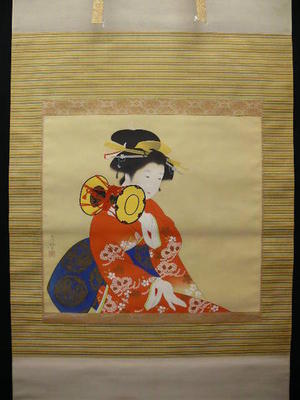 Artist: Kitagawa Hidemaro
Title: Bijin Playing Hand Drum
Date: Not set
Details: More information...
Source: Japanese Art Open Database
Browse all 17,130 prints...
Description:
Thursday, 22 July 2010 "Hidemaro"'s Handpainted Hanging Scroll with Beauty Playing Hand Drum Motif, "Tsudzu-no-Ne" (Sound of Drums), which is written on the box lid in "Tomo-bako" (Wooden Box) Item COLLECTIBLES Width 67.5 cm 26.6 inch (approximate) Item No R278 Length 140 cm 55.1 inch (approximate) Material "Kenpon" (Silk) Condition Considering its age, it's in Good Condition. There are some part coming off. (Refer to the pictures, please.) Comment "Jiku-saki" (Rod edge) is made of ZOGE.