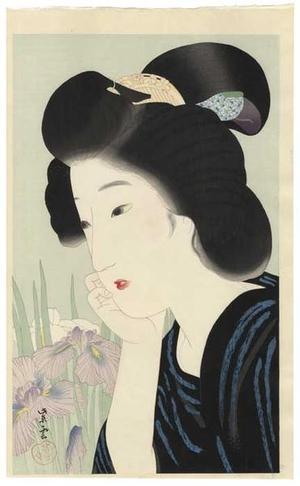 Artist: Kondo Shiun
Title: June - Irises
Date: 1924
Details: More information...
Source: Japanese Art Open Database
Browse all 17,130 prints...
Description:
Thursday, 13 September 2007 Iris, 1932 From a Beautiful Shin-hanga Commemorative Set- Tonight, we are very excited to offer a fine group of shin-hanga beauties from a single publisher's release of shin-hanga wood block masterworks. With the permission of the original's artist's heirs, the venerable Ishukankokai publishing company was commissioned to release a strictly limited edition of 100 sets with 12 prints each of masterwork shin-hanga beauty woodblocks. The Ishukankokai company set about producing an incredible reprint set of these designs with exact detail and color. The prints were produced on the finest handmade paper available. Expert carvers were contracted to produce the highest quality wood blocks and printers meticulously reprinted these bijin originals with the same attention to quality and detail and in keeping with the artist's excellent original designs. The prints included the technically difficult embellishments of mica backgrounds, embossed detail, and beautiful shaded color. These reprint sets were an immediate hit on the market. Due to the limited edition release of 100 sets total, and the technical difficulty in quality of the prints, they immediately commanded high prices. If you have always wanted to own a shin-hanga beauty masterpiece but have found the originals unattainable, consider this incredible opportunity to purchase from this lovely group. Either framed and displayed, or simply collected and stored, they are truly 20th shin-hanga treasures. Bid now on this fantastic auction. We do not anticipate having any of these rare originals in the near future. Comments- A wonderful shin-hanga masterwork portrait by artist Shiun. Lovely head and shoulders portrait of the young beauty in a simple kimono, black with blue detail. Her skin is a pure, creamy white with light, almost imperceptible, pink accents. Her hair is pinned high and fashionable, contemporary style. Shiun depicts the young woman near summer blossoming purple iris -- a quintessential Japanese image. Lovely soft color and excellent detail, this beautiful portrait would make a knockout display in any room. Publisher- Ishukankokai of Tokyo Signed- Kondo Shiun Image size- 10 1/2" x 17 1/4" + margins as shown Condition- In excellent condition overall as shown with no flaws or issues to report. Fine original color, no fading, and excellent detail. The print has been stored only, never framed, it is a flawless example. No holes, tears, or other issues. The print is not backed. An excellent choice for the discerning collector or for a stunning, sophisticated display.