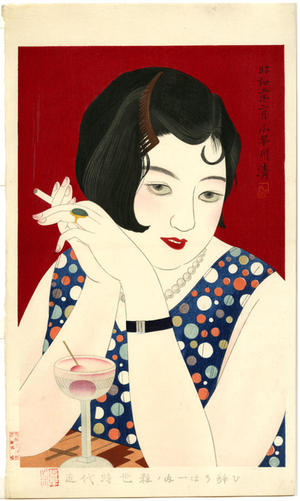 Artist: Kiyoshi Kobayakawa
Title: Tipsy
Date: 1930
Details: More information...
Source: Japanese Art Open Database
Browse all 17,130 prints...
Description:
Artist: Kobayakawa Kiyoshi Title: Tipsy Print Type: Limited Edition Woodblock Print Series Title: Woman's Manners of Today Edition No: #19/100. First Edition Date: 1930 Publisher: Self-published Reference No: Female Image, #189 - Full page Size: 20-1/4 x 11-3/4 " Condition: Very fine impression and color. Fine state. Full-size sheet. A faint horizontal centerfold. Notes: Kobayakawa Kiyoshi was born and worked in Kyushu, in southern Japan. While limited to 100 numbered examples, all indications are that the print received only limited distribution, due to the artists' being so far from Tokyo. This, and the fact that he was little known at the time, are reasons that examples of this design are so seldom seen. The print is edge mounted and floated on acid-free, museum board, with an 8-ply, bevel-cut over-matte, measuring 28-3/4 x 20 inches - ready for framing. An example was recently sold in Japan for $70,000! ONE OF THE MOST FAMOUS 20TH CENTURY PRINTS - REFERRED TO AS, "THE EPITOME OF THE IMAGE OF THE 'MODAN GARU' (MODERN GIRL)".