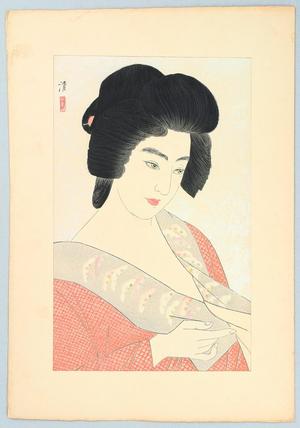 Artist: Kiyoshi Kobayakawa
Title: The Geisha Ichimaru
Date: 1933
Details: More information...
Source: Japanese Art Open Database
Browse all 17,130 prints...
Description:
Artist Kiyoshi Kobayakawa (1896-1948) Title The Geisha Ichimaru Medium/Technique Woodblock print. Date Of Work c. 1933 Publisher Takamizawa Dimensions 16 x 10.25 Description "Geisha Ichimaru" (Courtesan Ichimaru). Kiyoshi KOBAYAKAWA was a traditional Nihon-ga artist and made only 13 designs for woodblock prints. All his beauties feature the soft, round face and and expressive eyes. Here, the beautiful courtesan Ichimaru. Note "Hanmoto, Takamizawa-ban" square logo stamped on the back. Width Item 10.4 inches = 26.3 cm Height Item 15.9 inches = 40.5 cm Width Mat 14.2 inches = 36.0 cm Height Mat 20.5 inches = 52.0 cm Literature Reigle-Stephens, Amy, "The New Wave: Twentieth Century Japanese Prints from the Robert O. Muller Collection", London and Leiden: Bamboo Publishing Ltd. And Hotei, ISBN 1-870076-19-2, - Pg. 147, pl. 198 Later editions were published by Ensendo.