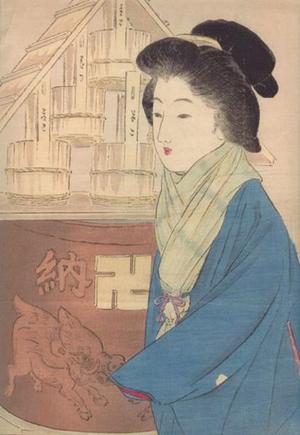 Artist: Takeuchi Keishu
Title: Marishi Bodhisattva — 摩利支天
Date: Not set
Details: More information...
Source: Japanese Art Open Database
Browse all 17,130 prints...
Description: Sunday, 6 February 2005 Artist: Takeuchi, Keishu Date: c. 1910 Description: Kuchi-e, Marici Bodhisattva Image Size: approx. 8" x 11.5" UK#: K105 "Marici is a bodhisattva in the Buddhist pantheon whose vehicle is the boar. In the kuchi-e Marici Bodhisattva by Takeuchi Keishu, a young woman is shown visiting the temple to Marici to pray for good fortune. She is walking past a container for offerings that is surmounted by wooden buckets of water for fire fighting. The second character for the word hono, meaning offering, can be seen on the container. Appropriately, the image of a boar, the zodiac animal for 1911, also adorns the offering container. The arms on the Buddhist swastika turn in the opposite direction from the German. Originally the Oriental emblem was written on the chest of Vishnu and Buddha and meant good fortune."