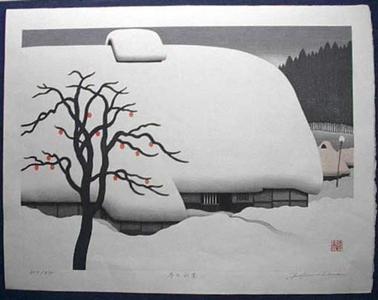 Artist: Kawashima Tatsuo
Title: Winter in Yamazato — Fuyu no Yamazato
Date: Not set
Details: More information...
Source: Japanese Art Open Database
Browse all 17,130 prints...
Description:
Fuyu no Yamazato, 1st edition pencil signed and numbered Tatsuo Kawashima (1939 ? ) Fuyu no Yamazato Tatsuo Kawashima- Tatsuo Kawashima has pursued the art of the Japanese print since the beginning of his career. He was born in Kyoto and immersed himself in the strong tradition of Japanese art in Kyoto as well as the beautiful scenery of that ancient city. His style is instantly recognizable and reminiscent of Saito, Sekino and some of the other mid and late 20th century artists Kawashima produced most of his print designs in the 1980's and is now retired. His prints offer a beautiful glimpse into the peaceful corners and outposts of Japan. They are a great opportunity to collect a limited edition work of a well known Japanese artist inexpensively and watch the works appreciate in value as time passes. Fuyu no Yamazato- Another stunning Kawashima snow scene. The evening sky is dark against the house covered almost entirely in heavy snow. This beautiful local in the Japanese Alps is captured beautifully in Kawashima's distinctive style. Hints of color as the sun sets on the roofs in the background and in the tree- wonderful. Pencil signed- T. Kawashima in English in the margin by the artist Limited edition numbered- 217/230 (in pencil in margin) Titled- Fuyu no Yamazato (in pencil in Japanese, margin) Image size- 16 1/2" x 12 1/4" (extra large woodblock print) Condition- Excellent, no toning, tears, not mounted, full margins.