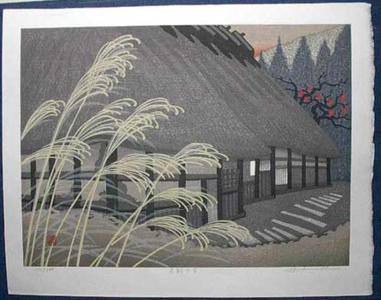 Artist: Kawashima Tatsuo
Title: Village of Yuge
Date: Not set
Details: More information...
Source: Japanese Art Open Database
Browse all 17,130 prints...
Description:
Village of Yuge, 1st edition pencil signed and numbered Tatsuo Kawashima (1939 ? ) Village of Yuge Tatsuo Kawashima- Tatsuo Kawashima has pursued the art of the Japanese print since the beginning of his career. He was born in Kyoto and immersed himself in the strong tradition of Japanese art in Kyoto as well as the beautiful scenery of that ancient city. His style is instantly recognizable and reminiscent of Saito, Sekino and some of the other mid and late 20th century artists Kawashima produced most of his print designs in the 1980's and is now retired. His prints offer a beautiful glimpse into the peaceful corners and outposts of Japan. They are a great opportunity to collect a limited edition work of a well known Japanese artist inexpensively and watch the works appreciate in value as time passes. Village of Yuge- It is late summer in the picturesque village of Yuge. The classic Japanese houses are the focus of this piece. Lights glow from inside hinting of evening activity in this peaceful outpost. The late setting sun glows orange over the hills in the background- wonderful. Pencil signed- T. Kawashima in English in the margin by the artist Limited edition numbered- 213/300 (in pencil in margin) Titled- Village of Yuge (in pencil in Japanese, margin) Image size- 16 1/2" x 12 1/4" (extra large woodblock print) Condition- Excellent, no toning, tears, not mounted, full margins.