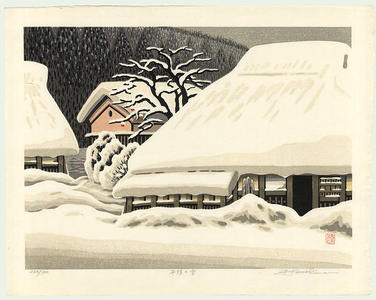 Artist: Kawashima Tatsuo
Title: Gogo no Yuki (Afternoon Snow)
Date: Not set
Details: More information...
Source: Japanese Art Open Database
Browse all 17,130 prints...
Description:
Tuesday, 8 July 2008 Tatsuo Kawashima was born in Kyoto in 1939. He had an early interest in the woodblock print tradition, and apprenticed and worked at Uchida Art in Kyoto as a carver and printer for some of their woodblock prints in the 50's and 60's. Simultaneously in the 1960's, he began to experiment with designs for his own woodblock prints in a contemporary style. In the late 1970's and early 1980's, he released some of his first popular designs in a larger format, drawing from scenes in the countryside and from Kyoto; his picturesque, traditional home base. Kawashima's prints are attractive, tranquil landscape scenes. He illustrated landscapes during all four season and produced some especially beautiful snow scenes. His prints are larger format, typical of some contemporary artists, and are all signed in pencil in Roman characters, titled in Japanese, and numbered limited editions. Typically the edition sizes are 230 pieces. Recently Kawashima has been ill and word has come out that he will not be producing further designs or printing any more of the old images. So, Kawashima's prints are poised for an escalation in value as all of the prints that will be done have been released. This is an excellent area to collect as his prints are still affordable. They are wonderful images for display or perfect for the collector looking to store them away and enjoy as they become increasingly rare and sought after. Artist - Tatsuo Kawashima signed in pencil Numbered, Limited edition - 264/300 Image size - 19 1/4" x 15" Condition - Excellent color and detail, as shown. Beautifully printed on fine hand-made paper, full sheet, not trimmed. Excellent 20th century print.