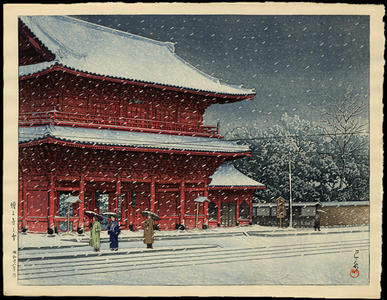 Artist: Kawase Hasui
Title: Snow at Zojoji Temple — 増上寺の雪
Date: 1953
Details: More information...
Source: Japanese Art Open Database
Browse all 17,130 prints...
Description:
Sunday, 30 March 2008 Catalog ID: 7266 Artist: Kawase Hasui Title: Snow at Zojo Temple, Tokyo Print Type: Limited Edition Original Japanese Woodblock Print Edition No: #155/250 Date: 1953 Publisher: Watanabe Reference No: Hotei #592 Size: 14 1/2 x 18-1/2 " Condition: Very fine. Limitation sticker on reverse. Notes: Paper limitation sticker on the reverse, tied to the print with the artist's red chop. Click here to view. This print was requested by the Commission for Protection of Cultural Properties to designate the woodblock printing technique as a "mukei bunkazai" (intangible cultural asset). The block cutting was undertaken by Sato Jurokichi, the foremost living block-cutter. The printer was Ono Gintaro (1885-c.1962), who had worked with Hasui for over 36 years. The distinctive technical features include the illustration of the snowflakes, created by repeated over-printing (more than 40 times), and the block-cutting of the detailed wooden architectural framework of the multi-storied, vermilion-colored Sanmon (main gate) of the Zojo Temple. This print solidified Hasui's position as the "Master of Snow". Hasui was named a Living National Treasure in 1956.