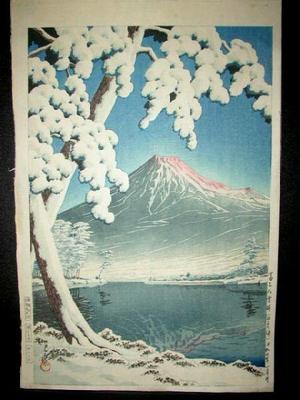 Artist: Kawase Hasui
Title: Mt Fuji After Snow at Tagonoura Bay — 富士の雪渓(田子の浦
Date: 1932
Details: More information...
Source: Japanese Art Open Database
Browse all 17,130 prints...
Description: A Japanese woodblock print by Hasui Kawase (died 1957), Mt. Fuji After The Snow, published by Doi , 1932. 15 1/2" x 10 1/2" . On the back side, there is tape residue at the center of the bottom edge and a little along the side edges(this was purchased c. 1946, framed and then removed from the frame about 50 years ago and kept in a folder with other prints). Published by Doi, see image of the seals of printer and carver ( Ito and Harada).