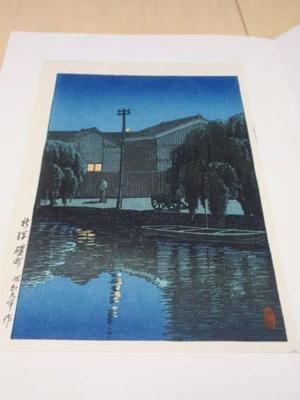 Artist: Kawase Hasui
Title: Ishizue in Niigata
Date: 1934
Details: More information...
Source: Japanese Art Open Database
Browse all 17,130 prints...
Description:
Tuesday, 23 March 2010 川瀬巴水の木版画です。詳しい事は 分かりませんが、『巴水版画同好会』と 書かれた包み紙に入っていました。 本紙裏に『わたなべ』の印と限定150/ 59の印があり、右側の端は台紙に糊付 けされています。(画像3枚目参照) 本紙サイズは縦約27cm、横約18.5cm です。 Later: You are bidding on a very beautiful and rare LIMITED-NUMBER (59/150) ORIGINAL Japanese woodblock print "Riverside" signed by the famous Taisho/Showa Shin Hanga woodblock print master Hasui Kawase (1883-1957) made in Showa 9 (1934) bearing the VERY RARE ORIGINAL WATANABE PUBLISHER H GIFT SEAL IN EXCELLENT CONDITION. The print size is 10 ? x 7 ? inches. The colors, which are vivid and vibrant, are in layers. The artist's chop mark is at the lower right corner of the print while the title of this print and the date this print was made "Showa 9", which is 1934, are in the lower left border. The LIMITED-NUMBER (59/150) and ORIGINAL WATANABE PUBLKISHER H GIFT SEAL are at the lower left corner of the back of the print. All four borders are intact. This woodblock print is not attached to any backing paper or cardboard and strong ink bleeding can be seen through the back of the original Japanese mulberry paper. As far as I can tell there are no defects, foxing, or stains, this woodblock print is IN EXCELLENT CONDITION.