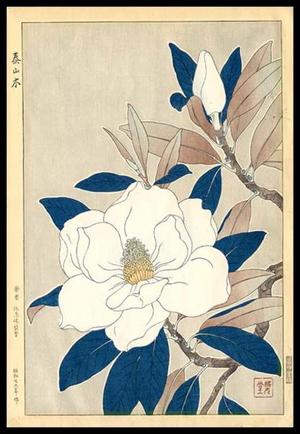 Artist: Kawarazaki Shodo
Title: Flowers 11
Date: Not set
Details: More information...
Source: Japanese Art Open Database
Browse all 17,130 prints...
Description:
"Magnolia Blossoms," original Japanese woodblock print, measures app. 15x10.5 inches, image area is app. 14x9.5 inches. Print was framed when acquired, has tape residue on reverse. Frame was badly deteriorated, could not be restored. Art is not titled (above title is mine), publisher and date of publication unknown but believed to be quite old (judging by the condition of the framing), perhaps from the late 1940s or 1950s. White borders are toned but image area is clean and colors remain bright and strong. Printed on heavy stock, print has substantial bleed-through and indentation where pressure was applied during printing process.